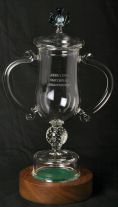 We have been commissioned to make trophies for competitions like this beautiful replica of the famous claret jug.
Retirement presents is also one of our specialties from police truncheons to rocking chairs, classic cars and motorbikes.
We can convert your imagination and 'brain-storm' ideas into unique gifts to suit all occasions, so give us a call and see what we can do for you.